You're on the Anime Fiction Anime episode list and information page. Here you can Download Anime Fiction Episodes for free. We try our best to provide you with high quality Anime Fiction Episodes for a quick, reliable way to download Anime Fiction. Below you will also find a short summary and also a list of Anime Fiction Episodes.
Anime Fiction Subtitle Indonesia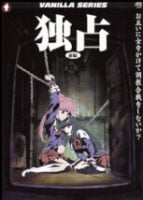 Description:
A hentai parody title featuring characters from Cowboy Bebop, Love Hina, Cardcaptor Sakura, Pokemon, Jin-Roh, Fushigi Yuugi, The Vision of Escaflowne and Rurouni Kenshin. From the same production team that gave you Star Ballz and Sailor and the 7 Ballz.
Other Titles
Episodes 2
Status Completed
Genres Oppai
Viewer 2716 Views
Reminders:
If download link doesn't work, make sure to try another download link.
Anime Fiction English Subbed.